Brown's Point
2020 Crew Quarters Restoration
The building had been neglected for some time and so a major restoration was done in 2020.
Before restoration - Crew_Quarters, pre-1990
The project included:
Replace / repair the windows and doors
Installation of new metal siding and trim
Add handrail to steps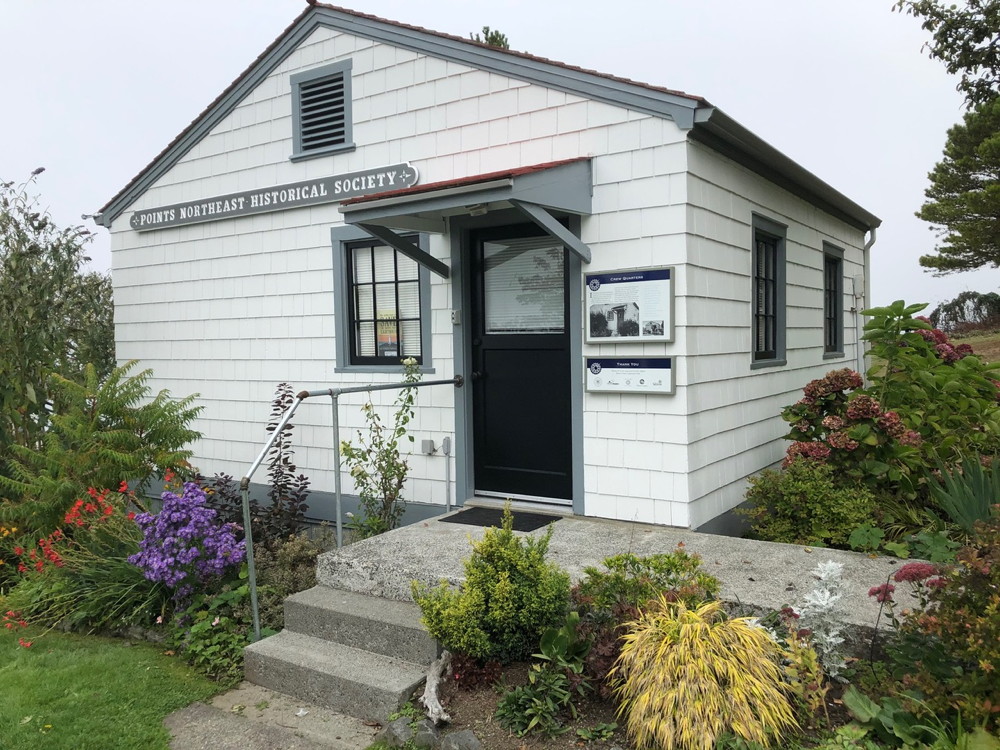 Restoration completed
Deteriorated sash and frame
Repairing window openings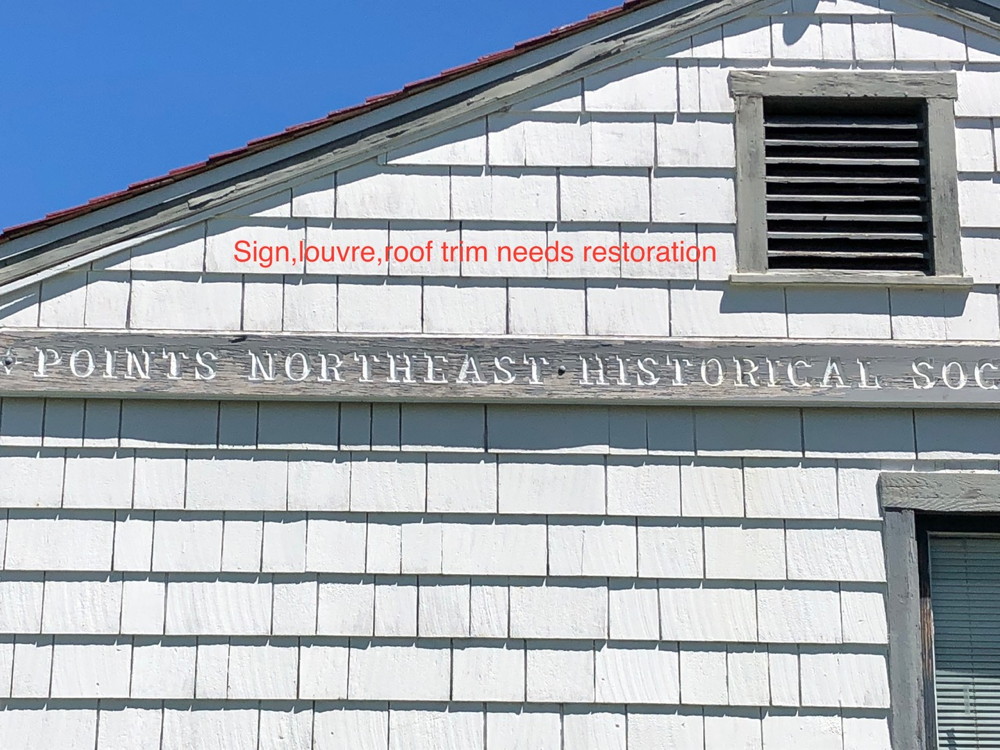 Sign and louver needs restoring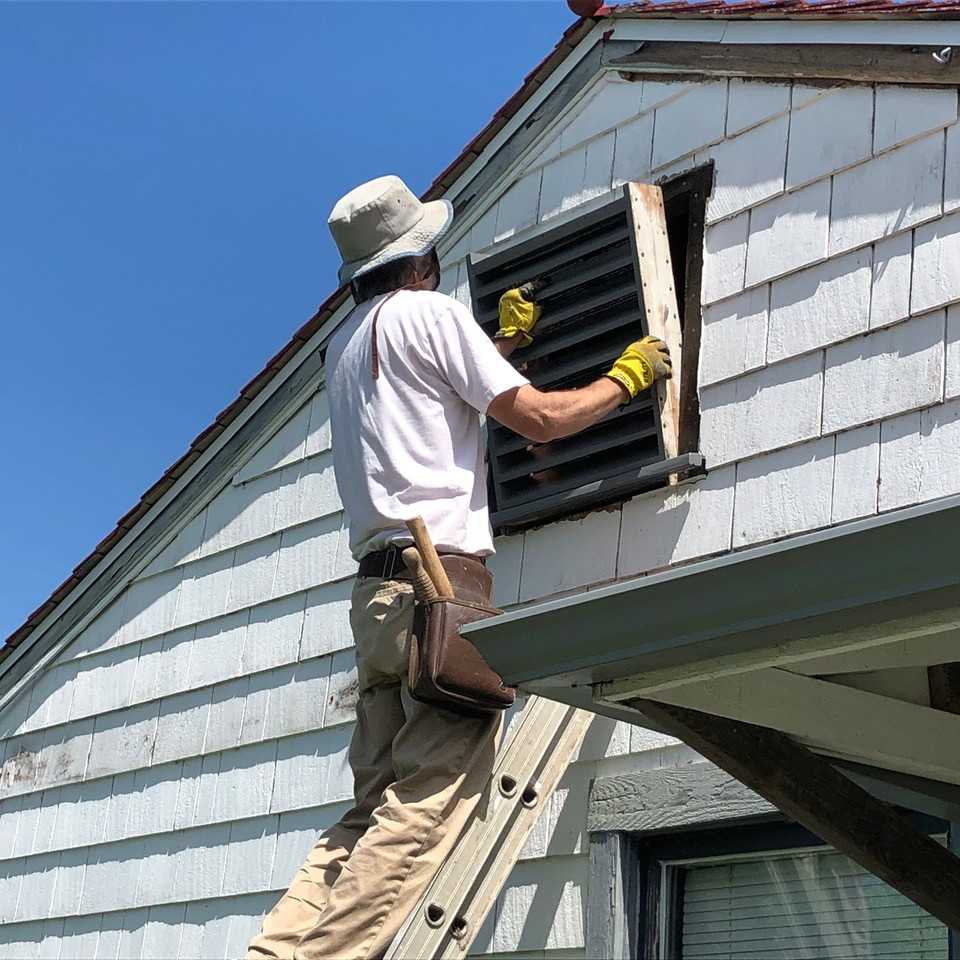 Reinstalling restored louver
His Center door
Used door before painting
Door restoration completed
---
Points Northeast Historical Society
Final Report for LEP Grant
Restoration of Crew Quarters at Browns Point Light Station
October 13, 2020
Below are the original proposed outcomes from our LEP grant application and an explanation of how they were fulfilled.
1. Replace/replicate windows and front door of the former 1951 Crew Quarters Legacy Renovations, a well know restoration company, fabricated new window sashes, stripped and repaired window frames and trim, primed and installed. Our volunteers provided the final coat of paint.
We originally planned and budgeted to have a replica of the original (1950's) door fabricated but a cost-conscious volunteer found an exact replica at a second-hand store, which was then adapted to fit the opening. The supports under the threshold were found to be missing or rotted so that area was reconstructed.
Another unexpected discovery was the roof over the front door was pulling away from the building and needed to be re-attached.
2. Repair/replace safety handrails on accessible ramp and porch. After removing the deteriorated wood handrails, we realized how they had distracted from the historic architectural look of the building. The original building didn't have railings so we designed a simple pipe railing which is similar to other railings on the light station and more appropriate for a military installation.
3. Clean, repair and paint the exterior of the building. The exterior was power washed and deteriorated components restored or replicated. Most significant was the tedious work of scraping out built-up paint in the spaces between the shingles and applying wood preservative before repainting.
The 30-year old "Points Northeast Historical Society" sign was refurbished, along with the wood louver/vent on the front of the building.
4. Restoration of the historical features of the 1951 building Care was taken to restore elements that could be saved and replicate those that were beyond repair. Our volunteers consulted with Legacy Renovations about best material and practices for historic restoration and preservation. Several areas of trim were repaired/restored.
5. The replica of historical windows and door will enhance the historical character of the building. The door we installed is an exact replica of the original. But after the windows were fabricated, we realized that we had not review the proposed plans closely enough. So instead of a 6-lite design the windows were fabricated with a 9-lite design.
6. Describe the promotion that will be done to insure public knowledge and participation in the project. During construction we displayed the LEP-produced "Save Our Lighthouse" poster and handed out Lighthouse License plate promotional material. As a result, we know of at least three people who planned to purchase plates. One, the owner of painting company (Sabelhaus West) who has painted lighthouses and is giving us a bid for our lighthouse, plans to buy lighthouse plates for his company trucks.
Now that the project is completed, we will include articles and photos in our newsletter and Face Book page showing the before/after results. We will display a photo poster (attached) showing the steps in the restoration and final transformation.
PROJECT BUDGET
Total project costs were within the allotted projections but the specific distribution was slightly modified because of more use of skilled volunteer labor than projected, substitution of used or donated material and purchase of a used door ($150) rather than fabricating a new one ($1000 budgeted). We also took advantage of a Sherwin Williams paint sale and used some of the saved funds to purchase additional paint for future maintenance.
What percentage of the total project budget will grant monies cover? If applicable, identify amount and value of any in-kind contributions (show how value of in-kind was established).
Expenses paid out:
| | |
| --- | --- |
| Window Sashes fabrication, installation-Legacy Restoration | $3,752.00 |
| Paint, door hardware, misc. (Jim Harnish) | $849.00 |
| Door, lumber, railings, misc. (Barry Linn) | $319.00 |
| Misc materials (Barry Linn) | $186.00 |
| Misc materials (ACE Hardware) | $145.00 |
| Misc materials (ACE Hardware) | $48.00 |
| Total expenses paid | $5,299.00 |
Volunteer hours 188 hours x $25 = $4,700
Total expenses and value of in-kind volunteer labor: $9,999
LEP grant award: $4,856 (is 48.5% of total expenses and volunteer labor value)