Swiftsure Lightship
2019 Porthole repair work
Northwest Seaport Maritime Heritage Center has completed its 2019 LEP-funded project "Lightship No. 83 'Swiftsure' Midship Portlights Restoration". The work was completed successfully by technician Mike Renstrom of Quality Glass, with documentation provided by the Northwest Seaport Vessel Manager, Saxon Bisbee. The restoration totaled approximately a month of work, completed on 6 September 2019. Finished portlights were then reinstalled by volunteers that same weekend, 7-8 September 2019, ending the project.
Restoration of Swiftsure midship portlights was deemed an important project amidst the general rehabilitation of the ship's interior, with the potential to move the living quarters one step closer to usability. Water intrusion remains the single greatest factor in the decay of historic structures, and virtually all the portlights not only leaked rainwater into the interior but suffered from damaged and begrimed glass. Sealing these last few leaks in the midship area and improving the appearance / integrity of the portlight glass, became the focus of this project. Volunteers were employed for project preparation, which involved carefully dismounting the portlight lids and labelling them. The Quality Glass technician, hired by Northwest Seaport under contract, removed the portlights to his shop and cleaned and affixed new seals. The ten finished portlights were returned to the ship and reinstalled by volunteers, resulting in a better appearance, no rainwater intrusion, and an actual view outside (see pictures).
In August 2019, volunteers disassembled and labeled ten portlights from the midships area of Lightship No. 83 "Swiftsure" and transported them to Quality Glass in Seattle for restoration. In this image they are in the back of a pickup truck ready to go. Each portlight weighs about 25 pounds.
Removed port windows
Rust, tarnish, and the paint overspray (caused during the repaint of the ship in 2013) was removed. The port windows were then cleaned and returned to position. The next picture shows a view out of one of the portholes.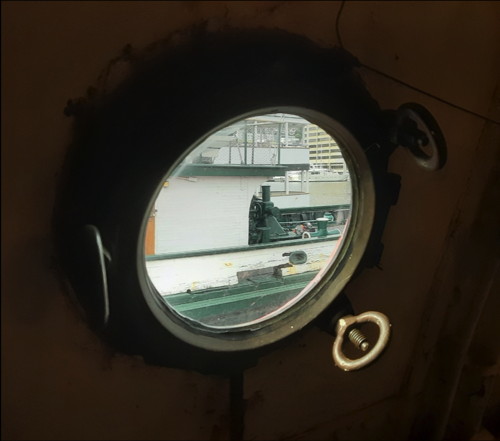 Port window after restoration