RESTORATION WORK
AT
Turn Point Lighthouse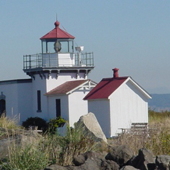 Turn Point Lighthouse Preservation Society members have been very busy through the years in partnership with the Coast Guard, BLM, Bellingham Corinthian Yacht Club, and Lighthouse Environmental Program's License plate project to restore the Turn Point Lighthouse located on the most western tip of Stuart Island in the San Juans.
PROJECT:Turn Point Oil Storage Building Restoration
A project that required lots of work with volunteers and contractors supported by BLM and LEP License Plate funds.
Oil Storage Building Before Restoration
Contractors hired by the BLM stripped the building of hazardous materials
Volunteer installing last piece of siding.
Volunteer with ventilator he recreated in his shop.
All finished!